Whether you're a real estate investor in need of funds for your next flip, or you're a backer looking to grow your portfolio – a private lender has exactly what you need. It's important that you understand the myriad of benefits and leverage that come with engaging a private real estate lender versus a big bank.
The point of view of a traditional bank is that loans are a great opportunity to capitalize on interest rates whereas a local, private lender is focused on the same thing as you are – the investment. Sharing in the same goal right from the beginning automatically starts you off in a better position.
Not Just the Money, Gain a Partner
If you're constantly fixing and flipping homes between 1 and 20 units, then having a reliable lender who not only has experience in real estate but who can offer you the flexibility you need is a must-have! Creativity is at the core, allowing for leverage where a bank may be limited. For example, if you own additional properties, there may be opportunities to cross-collateralize your assets reducing your money to close. These types of complex loans are made possible by private lenders who focus more on the investment than the paperwork.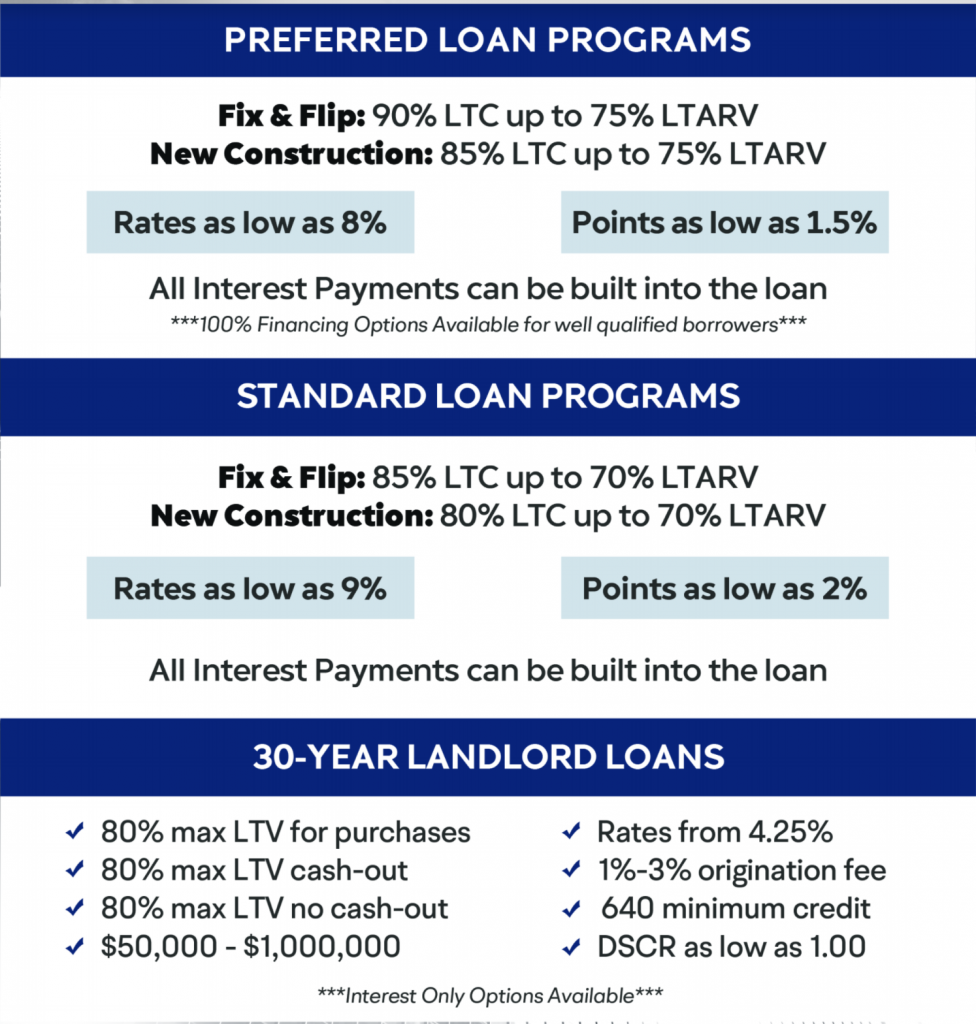 A bank may not connect the dwindling supply of homes to renovate due to the pandemic to more fertile opportunities in ground-up construction, so they don't work in service of what you need next – financing for your new construction home. As specialists, private real estate lenders understand the market, forecast what's needed, and match those needs with creative and flexible solutions that fit your exact situation.
You can often get to the closing table a lot faster with a small, efficient team reviewing your documents rather than the bureaucracy of a bank. Documentation requirements in private real estate lending are often less than for a bank. The private lender knows what information is critical to your deal and they focus on collecting that information. Banks can often take you through a standard process regardless of your situation.
Why Backers Feel Safe With Private Lenders
Many doctors, lawyers, CEOs, and professionals looking to make their money work feel safe investing in a private real estate lender.  They know the team is highly experienced with hands-on construction experience as well as deep lending expertise.  In addition, each loan is scrutinized quickly and efficiently for credit quality, construction experience, budget, and other important variables. Borrowers are set up for success through finding creative solutions to execute their loan needs without putting them in a bad financial position. That sounds like dollar signs.
Smaller teams can help improve transparency and communication, and the lenders understand their reputation is at stake, so there's often an added layer of comfort in working with private lenders.
Work With Builders Trust Capital, The Best Hard Money Lender Serving NJ, PA, VA, DC & MD.
Builders Trust Capital's team provides knowledgeable advice and consultation by experienced real estate investors and lenders. Our rates have no junk fees and no hidden fees. All clients receive access to our profit calculator to estimate their costs and gain visibility into a projected investment return. Ready to discuss your funding needs? Contact us by phone at 856-422-3232.