Big banks can make you feel secure as a real estate investor, but they overlook the nuances of your neighborhood and the intricacies of the deals you want to close. If you don't fit the formula they have, you don't get approved for the loan. The power of private real estate lending comes from the unique experience each member of the team brings to the table. At Builders Trust Capital our experience includes new construction management, purchase and renovation project management, rental property acquisition and management, customer service, compliance, strategy, financial expertise, and more. We're invested in the growth of our clients and offer both advice and capital so you can build sustainable businesses capable of weathering market volatility.
We have local experts in every one of our lending areas of New Jersey, Pennsylvania, Maryland, Virginia, Washington, DC, Florida, and Delaware. 
Virginia
Mark Ware, an Account Executive here at Builders Trust Capital, lives and works in the Richmond Virginia area. He brings over 30 years of commercial and retail lending experience. Our clients benefit from his experience lending a wide range of client borrowing needs across multiple property types. 
A powerful asset for our clients to leverage is the wisdom that only Jerry O'Brien can bring to the team as one of our Managing Partners. He is also on the ground in Virginia and focused on delivering fast loan processing times while mitigating credit and business risk. Why not work with the former Co-Head of Operations at Fannie Mae so you can leverage his insight to grow your business?
Anthony Susco, a BTC Managing Partner, lived in VA for over a decade! Work with a man who has been involved in every stage of real estate investment himself – property identification and selection, debt and equity financing, closing, permitting, construction, contractor management, marketing, sales, and rental management. Get advice and a deep understanding from the guy who's personally completed more than 40 fix and flip projects successfully.
We expanded to Virginia because we know the exponential growth that's about to hit this region. Amazon announced its new headquarters will be in Arlington, VA, and will boast a lofty 2.8 million square feet of office space. They've pledged to create 25,000 jobs and as seasoned investors ourselves we know that jobs = people and people need housing.
Florida
Douglas Beck, an Account Executive on the BTC team serves our Florida market while specifically located in the Sarasota area. Doug's broad real estate experience includes real estate investments, title insurance, wholesaling, real estate brokerage, and mentoring other real estate investors on starting and growing their businesses. His unique background helps him understand his clients' challenges at a deeper level and advise on how to best utilize people, processes, and technology to drive real estate investment success.
As we continue to rapidly expand, we've recently welcomed Liz Joiner to the team from Jacksonville, FL. Liz brings over 25 years of financial services sales with a broad range of knowledge in all types of lending to the BTC team. She spent years consulting with small business owners on strategic planning, marketing, and sales strategies and applies that experience to promote our client's growth.
Peter Christiansen, another one of our Managing Partners has a rental property in Florida he's enjoyed for many years. He also spent the last decade investing in the area which has deepened his understanding of what local borrowers need, enabling him to link sophisticated sources of capital with the unique borrower and collateral profiles.
Check out an exciting new construction refinance loan we closed in Fort Myers, Florida!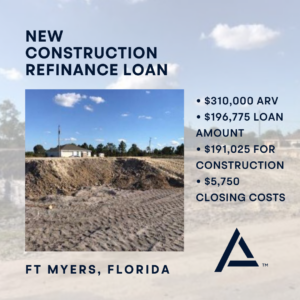 Check out roofstock's 2022 real estate market trends to get even more insight on the many exciting reasons our team has positioned ourselves here. Hint: Florida's booming job market, strong renters market, and incredible population increase are just a few!
"You're only as good as the people you hire." — Ray Kroc
Why Builders Trust Capital
Our team is on the ground in the hottest real estate markets on the East Coast. We live locally, shop small, and will personally meet with you right in town. We handle every step of the lending process in-house, from pre-qualification to final payment, including payment collection and draws. When you work with the team at Builders Trust Capital, your real estate investing can grow into a scalable profitable business thanks to our local knowledge and experience. 
Our in-house lending process means consistent, reliable communication from application to closing 

We can give you vetted contacts like title companies, contractors, and realtors 

Big-company capability with small-office personalized service

No "junk fees" – we're transparent and honest

Fast loan processing – you get to the closing table on time
Even Tarek El Moussa, host of Flipping 101 says "…delegate, scale, hire leaders and managers. I don't manage projects anymore—I manage people, and those people manage projects. The most valuable thing I learned over the last few years is, you are only as good as the people you hire."
Ready to discuss your funding needs? Just contact us by phone at 856-422-3232 or send us a message!